If you're gearing up for your first trip to Beech Mountain, you are in for a treat. For the outdoor adventurists and those who love escaping to The High Country, a retreat to Beech Mountain is a perfect opportunity to press "reset" as you enjoy beautiful mountain views and endless activities, especially during the winter.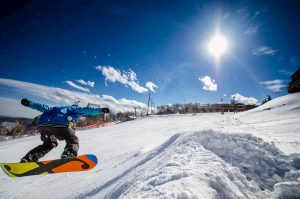 Beech Mountain is the highest town in Eastern America, home to an elevation of 5,506 feet. During the winter months, you can expect low temperatures between 23 and 34 degrees Fahrenheit, and high temperatures between 38 and 49 degrees Fahrenheit. In the winter of 2018/2019, Beech Mountain reported 51 inches of total snowfall, compared to 22 total inches in the winter of 2017/2018. When preparing for potential snow during your visit, Beech Mountain's Snowfall History Calculator is a great resource.
Speaking of snow, the number of outdoor winter activities at Beech Mountain are endless. Beech Mountain Resort was designed just for winter fun in all its forms! Depending on what your winter sports interests are, there are several options including snowboarding, skiing, tubing, and ice skating. Beech Mountain Resort has offerings for every ability level, making it both approachable and exciting for your entire family or friend group. If you've never participated in winter sports but you are interested in learning, you can schedule a lesson with a qualified professional, which is recommended for first-timers.
When it comes to preparing for your trip on the slopes this winter, another key component is your outerwear. Ensuring you have the proper equipment is a vital aspect of making sure you enjoy your experience to the fullest. You can rent several pieces of gear at the resort, like helmets and skiing and snowboarding equipment. There are a few items you can prepare to pack ahead of your trip. Here they are:
Thin, woolen socks

Firmly-fitting boots that do not cut off circulation

Waterproof pants

Windproof and waterproof jacket

Thermal underwear

Warm layers, such as fleece or cotton
Now that you know what types of clothing items to include, you can arrive at your destination with worry-free confidence knowing you will be dry and warm, no matter what adventure comes your way!
If you need help looking for a place to stay, you can choose from several options here. Don't forget to swing by Beech Mountain Brewery, a crowd favorite, during your stay for a fun and relaxing environment to quench your thirst and satisfy your hunger. We hope you enjoy your trip to Beech Mountain and come back soon.